What are "pretest" questions and do they count toward my score?
Testlets contain operational and pretest questions. Operational questions are scored, while pretest questions are not. Each section of the CPA Exam includes 12 pretest MCQs and 1 pretest TBS. BEC also includes 1 pretest written communication task. Pretest questions are indistinguishable from operational questions and may be used as operational questions on future examinations.
While pretest questions are not labeled and do not count toward your score, you should complete all questions as if they do.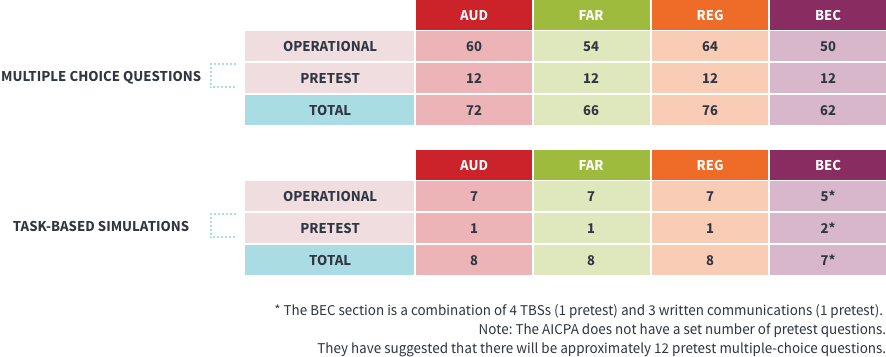 Which part of the CPA Exam should I take first?
This is one of the most common questions CPA candidates have when deciding to register for the exam. The answer differs by individual and by how the exam content can change in January or July. For example, in 2018, it was a popular strategy to take the REG section of the CPA Exam first, as so much of it was to change on January 1, 2019.
So, consider how much content you'll need to learn when deciding in which order to take the CPA Exam. In general, when considering which part of the CPA exam to take first, most people choose to do FAR or AUD as their #1 or #2 choices.

What is the easiest part of the CPA Exam?
The easiest part of the CPA Exam is BEC based on the pass rates being the highest of the 4 sections of CPA Exam. Enrollments in the BEC are lower than the other section and that is probably because many choose to take BEC last. So, those who are still passing the other three sections are not sitting for BEC. If this is true, then it could be true that the smaller number of exam takers enrolling in BEC have already proven themselves to be exam passers.
What is the hardest part of the CPA Exam?
The hardest part of the CPA Exam is FAR. Overall, the FAR section requires you to tackle and master a HUGE amount of information and concepts, far more than REG or BEC, so many elect to tackle it first rather than last. The old adage of "get the hard part of the way" absolutely applies to the CPA Exam, as most people choose to take FAR as their first section of the CPA Exam. A minority elect to take AUD first, thinking it is harder than FAR.
When does my 18-Month window to pass begin?
You may take each section of the CPA Exam individually and in any order, but are required to pass all four sections within 18-months. The clocks starts on the date you pass your first exam section. Credit for any section passed is valid for 18 months from the date the section was taken. You will lose credit for each section passed outside the 18-month period, and will have to retake that section(s).
Find Out How How Prepared You Are for Each Section of the Exam with Wiley's Free CPA Free Practice Exam.