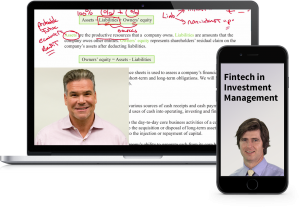 There's a reason why people tell us our instructors are the best, now you can find out for yourself.
Join the A-Team – Peter Olinto, Darren Degraaf and David Hetherington – for free online classes designed to help you drill down on key exam topics.
This sample will give you insight into our intensive, interactive weekly classes, available Live or On-Demand. Your instructor drills down to focus on the fundamentals, offering plenty of problem solving, and provides tips and shortcuts that will deepen your understanding and help boost your exam score in some of the toughest and most heavily weighted areas on the Level I CFA Program exam.
Remember – all classes will be recorded and available on demand, so you won't miss out.
Join The A-Team and get inspired!
Level I: Quantitative Methods with Darren Degraaf – Now Available on Demand
Level I: Corporate Issuers & Equity with Chris Ansell – Now Available on Demand
Free Level II CFA Program Classes