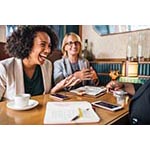 A Certified Public Accountant (CPA) license is a highly respected credential that can open up a world of opportunities. Most new CPAs opt to make a career in either public accounting or corporate accounting as a result of this.
A public accounting job could mean employment in one of the Big 4. Deloitte, PWC, KPMG, and EY provide reasonably high starting salaries. They also offer the chance of working in diverse areas. If you get a job in one of these firms, you could gain valuable experience in tax work, forensic accounting, advisory and consulting services, and auditing.
Of course, a career in public accounting isn't restricted to the Big 4. According to the American Institute of CPAs (AICPA), there are over 46,000 public accounting firms in the United States. Some of them are small, but many have an extensive level of operations. Getting a job in one of these firms could mean building a very successful career for yourself in the accounting/auditing/tax or related fields.
The other option is to work in corporate accounting. This type of job is also known as a private accounting job. If you choose to work in a large corporation, you could start off by handling accounts payable, payroll, or financial reporting.
But what does it take to work in these positions? What is the ideal personality type that CPAs need to succeed?
Well, for starters, an essential requirement is the ability to work hard. Employers value persistence and "stick-to-itiveness" very highly. If you are given a task, you must do your best to complete it. However, this is a general trait that would help you to succeed in any job.
CPAs require to develop several specific attributes to advance their careers. Here is a brief description of nine personality traits and soft skills that could put your job as a professional accountant on the fast track:
A desire to keep up with new developments
Don't make the mistake of thinking that you don't need to study anymore once you've passed the CPA exam. A CPA license holder is considered to be an expert in accounting, auditing, taxation, and related fields; consequently, you must ensure that you regularly improve your professional knowledge in these areas. Doing this will keep you abreast of the latest developments and give you an edge in your career.
At the very least, you need to meet your Continuing Professional Education requirements to retain your CPA license. Make it a point to take this seriously; the knowledge that you gain will help you to carry out your job more effectively.
A way with numbers
You probably wouldn't have opted for the CPA certification unless you have a certain degree of comfort with numbers. This ability will be very useful when you are working at a public accounting firm or in a corporation since a significant proportion of your job will involve figures.
You must develop the habit of checking (and rechecking) the statements and reports that you prepare. This requires concentration and patience but it is worth spending a little extra time on double-checking the work that you do. Even a small mistake in a financial statement could have a disproportionately large implication in the future.
You could find yourself in an embarrassing position if you put up an incorrect report or one that contains an error!
An ability to keep information confidential
As an accountant, it is likely that you could be involved in the preparation or checking of financial statements. It would be unethical to divulge the confidential information that you have access to in the course of your work to others.
Betraying the trust of your employer or your client could be illegal as well. In fact, the loss of a client's data by an accounting firm could lead to a significant claim for damages and could even be the outright end of your career.
Successful accountants must develop the ability to keep vital information confidential. It's a good idea to share sensitive data on a need-to-know basis; in a worst-case scenario, you could expose your employer to a legal claim by inadvertently revealing confidential data to unauthorized third parties.
Strong organizational skills
The work that CPAs do often involves adhering to strict timelines. To accomplish the tasks that are assigned to you effectively and promptly, you would need to:
Organize your paperwork and your computer files: You should be able to access the data or the records that you need quickly at any time. You won't have the luxury of spending hours searching for a particular document that you have misplaced or lost track of, so save time with proper organization.

Work efficiently under pressure: Tax season is a difficult time for many CPAs; you could have to work late or on weekends. Despite the workload, you can't afford to make any errors since a mistake on your part could lead to financial losses for your client. Maintaining excellent organization will help.

See the big picture: CPAs need to pay close attention to every detail of their work. But at the same time, they should not lose the overall perspective of the task at hand. This ability becomes especially important as you go up the career ladder, so strong organizational skills will be more and more important as you gain status.
An ability to think outside the box
Creativity is usually associated with art and the humanities, but accountants need to be creative too. You may not find a solution in your textbook for an accounting problem that you face at work. In this situation, you will have to use your imagination and find a way out. Of course, you must operate within the structure of accepted accounting norms and the applicable regulations.
In public accounting, creativity can be used in another meaningful way. The knowledge and experience that you gain when you are performing an audit at a particular client can be used to improve the quality of your work on a subsequent assignment. This form of out-of-the-box thinking will help you become an invaluable asset at any company.
Team skills
Accountants can't be loners; they have to develop the ability to work in a team. In the initial years of a new job, you will probably be a member of an accounting or auditing team. In these environments, you will need to work closely with your colleagues and ensure that you complete your share of work in a reliable and competent manner.
As you rise in the organization's hierarchy, you will need to develop a new set of team skills: leadership skills. The focus is shifted from carrying out the work yourself to managing a team of workers. Strong leadership skills are an asset for CPAs, especially those who aspire to senior-level positions.
A desire to understand business issues
This trait becomes critical to your success at mid to senior levels. As your career advances, you may be called upon to give your opinion on business issues. Your views will be sought on matters that may have only an indirect connection with accounting, taxation, or auditing.
What impact will your decisions as an accountant have on the business?
Can your skills and expertise be used to improve the company's financial performance?
A CPA who can answer these questions and provide useful advice to the top management will be valued very highly. If you can develop this skill, your long-term career prospects are likely to improve.
An ability to communicate effectively
The ability to get a message across in an understandable manner is a skill that every CPA must work on and develop. You have to be a skillful communicator in every medium. It is crucial that you have a high degree of expertise in writing emails, memos, and reports.
Your work will also require you to make presentations and communicate verbally. Technical knowledge and expertise may not be enough to advance your career.
Why does a CPA require communication skills? Here's the gist:
If you work in a public accounting firm, you will have to interact with your clients. Because of this, it's critical that you know how to get your point across clearly and concisely. CPAs who work in private accounting also need well-developed communication skills as they would probably have to make presentations and reports for the company's senior management.
High ethical standards
CPAs are expected to follow the AICPA's Code of Professional Conduct. This code addresses the ethical and professional standards that a CPA should adhere to.
During your work, you could face a situation where your integrity is tested. At other times, the ethical dilemma may be more complicated and it may not be easy to identify the correct approach that you should follow.
AICPA's Code provides some guidelines, but CPAs need to internalize ethical behavior. This is a critical trait and an essential complement to your knowledge and skills.
The bottom line
A CPA certification is the most sought-after accounting qualification. It gives you an advantage over other accountants. The fact that you have earned the CPA credential assures employers that you have the training and knowledge to fulfill your professional role.
However, if you can work on and develop the traits listed above, it is likely that your career prospects will get a boost. If you're looking to get a leg up on other CPAs, take this advice to heart so you can CRUSH the competition!