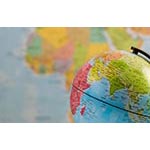 Many Indians search for information about the CMA certification every year, so I'd like to address them in this article. If you're interested in earning the US CMA in India, let me walk you through some facts about the CMA international certification, the application steps, and tips for passing the exam.
(If you're an Indian working in the Middle East, you'll want to read my page about becoming a CMA in the Middle East.)
Cooperation Between the IMA and ICAI
I know we all like to start out with good news, so I've got some. ICAI (previously ICWAI) members can apply for the US CMA membership with a valid ICAI certificate. You can learn more by visiting the IMA's website.
The reverse of the agreement also works. Current CMAs can obtain ICAI membership, so long as they completed the CMA program outside of India. As far as I understand, this means you must have physically taken the CMA international exam at testing centers outside of India. This document provides more details.
To look further into this matter, read my in-depth discussion of the IMA vs. the ICAI.
Study of IMA Members from India
The IMA Global Salary Survey of 2020 noted that CMAs in India earn more than non-CMA certified colleagues.
Compared to members around the world, Indian IMA members work pretty hard, averaging 45.5 hours per week. That number ties with Jordan and comes in second to the United States (46.3). Indian IMA members are also very well educated. All of the 52 Indian respondents have bachelor's degrees, and 63% have advanced degrees.
We see even more interesting statistics by observing IMA members from Asia (mostly from China and, to a lesser extent, India). Among these members, 48% are CMAs (it's likely the rest are pursuing the certification). The median age is 34, which ties with the Middle East for the youngest among all IMA members. A high majority have bachelor's degrees (85%), and about a quarter have advanced degrees (26%).
Let's take a quick look at the management levels of IMA members from Asia and America:
Management Levels of Asian and American IMA Members
| Position | Asia | Americas |
| --- | --- | --- |
| Top Management | 3% | 15% |
| Senior Management | 17% | 23% |
| Middle Management | 46% | 37% |
| Lower management/Entry Level | 32% | 20% |
| Academic position in college/university | 2% | 5% |
The fact that Asian members are typically about ten years younger than American members provides one explanation for the differences between these figures. Additionally, the CMA certification is a more recent commodity in Asia than in the US.
CMA vs Non-CMA Salary in Asia
One of the most important findings from the salary survey is that the CMA makes a considerable impact on compensation in India. Indian CMAs earn 136% more in average total compensation than non-CMAs, and this premium has widened steadily and significantly throughout the years.
Some additional CMA benefits enjoyed by IMA members in Asia include additional career opportunities and paths. Almost 65% of Asian CMAs said the certification expanded their career options, while 90% credited the CMA with the strengthened ability to move across all areas of business.
How to Become a CMA in India
Ready for more good news? You can earn the US CMA certification right from India; you don't have to travel or work abroad.
The exam prerequisites are simple: you just need a bachelor's degree for an accredited college or university and 2 years of experience doing any relevant work, all of which you can get in any part of the world. Learn more about the CMA exam requirements here.
CMA Exam Content and Format
The computerized CMA exam features two parts with 100 multiple-choice questions and two essay scenarios each. You have four hours of total testing time to finish each part. You can take the exam on any weekday within the testing windows, which cover six of the 12 months each year.
CMA Exam Parts:
Part 1: Financial Reporting, Planning, Performance, and Control
Part 2: Financial Decision Making

CMA Exam Testing Windows:
January/February
May/June
September/October
Visit my site for a more detailed look at the CMA exam syllabus and content.
Prometric Testing Center Locations in India
The CMA exam is administered by Prometric Testing Centers. There are currently 10 test centers in and around India:
Ahmedabad
Allahabad
Bangalore
Chennai
Dhaka
Gurgaon
Hyderabad
Kolkata
Mumbai
Trivandrum
You can mingle and network with fellow CMAs at one of these eight regional IMA chapters:
Bangalore
Chennai
Delhi
Hyderabad
Kochi
Kolkata
Mumbai
Pune
CMA Exam Passing Rates
The average pass rates for the CMA exam are 40% for Part 1 and 50% for Part 2.
Specific passing statistics for India are unavailable, but based on the data we have, Asian candidates have a better than average pass rate. However, the Americas and Europe put up the highest passing rates. How can you achieve similar CMA exam success? I've got a few suggestions for accomplishing that task.
How to Increase Your Chances of Passing the CMA Exam
Read My Essay Writing Tips
While Indians have a good command of English, their writing style can be different from that of Americans, so you should work on composing essays that feature the standard use of English. I have some CMA exam essay tips that can help international candidates specifically.
       2.  Take Self-Study Review Courses Instead
I recommend Asian candidates rely on self-study CMA review courses for two reasons:
The problem with local coaching classes: My own research and feedback from international candidates confirms that one common reason for lower pass rates among Asian countries is too much dependence on local coaching classes. While there are some excellent live courses in Asia, many of them do not adequately prepare candidates for the exam, and sadly, you can't tell how little you've learned until it's too late.
The lower price and increased convenience and reliability of self-study courses: More often than not, domestic candidates prepare with the self-study courses that have a reputation for higher quality. By working with the same courses as the US candidates, you know you're more likely to receive a better review experience, and consequently, a more level playing field. It's simple, really: the Americas have a higher passing rate (50-60%), so what they're studying with seems to work. Therefore, I would definitely use whichever review courses they are using.
Some CMA in India Inspiration 
My guest blogger Hari won the prestigious Priscilla S. Payne award for being the #1 student candidate during the Jan/Feb 2017 window. You'll find his story and his CMA exam advice on my site.
How Can You Begin Your Own CMA Journey?
If you're new to the CMA program, you can learn about:
If you've already set off toward the CMA, you can discover:
I'm confident you can earn the CMA with ease in India, and I wish you the best with the CMA exam!
Are you ready to start your journey to becoming a CMA? Get started with 14 days of FREE access to Wiley's CMA Review Course. You'll get access to study text, practice questions, video lectures and more.
Author Bio:
Stephanie Ng has been answering candidates' questions and writing about how to pass the CPA and other exams since 2010. She helps candidates pass the CPA Exam at her site ipassthecpaexam.com, the CMA exam at ipassthecmaexam.com, the CIA exam at ipasstheciaexam.com, and the EA exam at ipasseaexam.com.