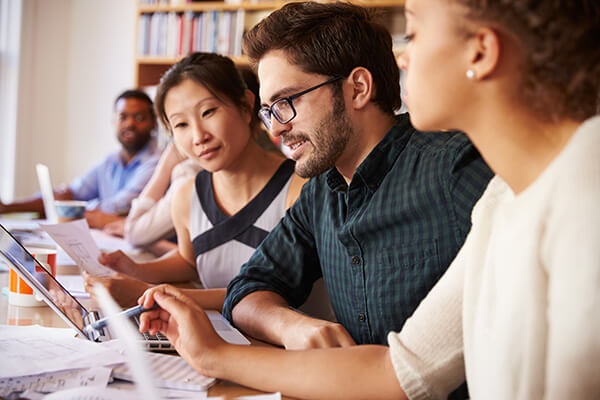 The next CPA Exam is launching on April 1, 2017. The Wiley CPAexcel online course has been updated in accordance with AICPA's content and structural changes. Read more to get all of the details.
Summary of the Changes
The AICPA has replaced the Content Specification Outlines (CSOs) with Blueprints for the next CPA Exam, testable starting April 1, 2017. 
All Wiley CPAexcel course content has been updated to reflect the new AICPA Blueprint. In addition, it has been analyzed with respect to presentation and assessment to ensure that you are prepared to answer questions at the appropriate cognitive level.
The vast majority of changes are structural in nature. The "next" CPA Exam will contain five testlets in each part of the exam (AUD, BEC, FAR and REG). The first two of these testlets contain multiple choice questions and the remaining three testlets contain task-based simulations and/or written communication tasks (BEC). The same adjustments have been made in the Wiley CPAexcel practice exams to provide you with an exam experience identical to what you will face on exam day.
Where Should I Start? Edit Your Exam Plan*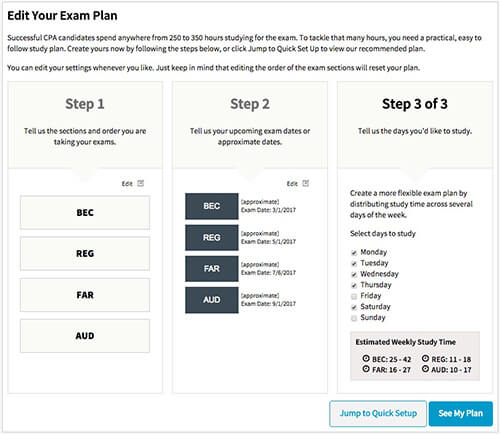 As a first step, edit your Wiley CPAexcel Exam Plan. The exam dates you select in your Exam Plan will determine the content you see in your course.
If your exam date is before April 1, you will see 2016 course content. This content will be available until late March.
If your exam date is after April 1, you will see 2017 course content.
Please be aware: when accessing the 2017 course, your progress in the 2016 course will not carry over. If you want to view your progress in the 2016 course, you can select "cancel" or go back by reverting your exam dates.
* If you are enrolled in a custom university course that uses the Wiley CPAexcel course, please check with your instructor before editing your exam plan.
Please complete the following steps to edit your Exam Plan:
From the course dashboard, scroll down to "Exam Plan" and select "Edit My Exam Plan"
Under the "Step 2" panel, tell us your upcoming exam dates by selecting "Edit" and enter your anticipated exam dates. (If you have passed some of the sections, please enter this information as well).
Select "Continue to Step 3."
Tell us the days you'd like to study.
Select "See My Plan" to review your exam plan.
Jump right in and start studying!
We're with You Until You Pass
As your Partner Until You Pass, your course has no expiration date—use it until one year after you pass the exam. Course repeats, online content updates, and software upgrades are free, including the new April 2017 online course.
For a refresher on how to use your Wiley CPAexcel courseware, visit our Product Tour & Tutorials resource page. At any time, you are welcome to contact us with questions.