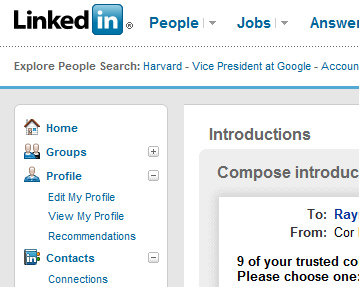 If you want to grow your professional network and find job opportunities, using LinkedIn is an absolute must. Here's a primer on LinkedIn for CPAs and how you can use this quasi-social network to advance your career.
300 Million Users Can't Be Wrong
If you didn't know, LinkedIn is a professional social network designed solely for business use. Over the past few years, it's added blogging and sharing features similar to consumer social networks. It recently surpassed 300 million users.
If you don't have a LinkedIn account, set one up right now and be sure to use an email address that you'll carry with you throughout your career (e.g. gmail, yahoo, etc.).
And, yes, you must include an attractive, clear headshot in your profile.
LinkedIn for CPAs Tip #1: Use Industry Keywords
In the "Professional Summary" portion of your profile, be sure to be detailed and descriptive about your abilities and credentials. Use keywords that likely connections or HR managers would use to search for good candidates – "CPA", "experienced auditor", and the like.
The best way to do this? Look up your dream job on Indeed.com or another job board and lift keywords from that description.
But remember: LinkedIn is the equivalent of an online resume. So don't lie.
LinkedIn for CPAs Tip #2: Talk Accomplishments
Next, rework your job history. For each position, provide a short blurb on what you did in the role and be sure to use industry keywords.
Then, list out your accomplishment and provide actual metrics for what you did for the company or clients in a bulleted list. This is especially helpful for younger accountants just starting out (see next tip if you're a "well established" professional).
Protip: LinkedIn makes it hard to insert bullet points into content. To do it, use the Unicode for a bullet: (&amp#149;) … minus the parentheses.
LinkedIn for CPAs Tip #3: Ask For Recommendations
So you've been around for a while and done good work? Then let others speak for you.
Rather than list out your accomplishments for each position, ask others (clients or colleagues) to provide a recommendation for you. These speak far louder than any bullet point.
LinkedIn for CPAs Tip #4: CPA-In-The-Making? Say So.
Even if you're studying for the CPA Exam, you can still put CPA on your profile – just make it clear when you expect to pass the exam and become fully licensed.
Please don't put your CPA Exam scores on your profile. No one cares.
LinkedIn for CPAs Tip #5: Make Connections!
The whole point of LinkedIn is to expand your network and get your name and expertise out in the market.
There are two great ways to do this:
By importing your email connections .
By searching for people you know. However, if you hit the "connect" button on a person's profile, you have to prove you know them via your current/previous company. Instead, use the search feature and connect through the results page.
Here is a great read on making connections on LinkedIn.
LinkedIn for CPAs Tip #6: Share & Promote Your Ideas
If you've been on LinkedIn lately, you've likely noticed that your homepage now seems very similar to the Facebook "newsfeed" with updates and articles from your connections.
This is by design — and you'd be wise to take advantage of it.
Start Sharing — It's really simple: When you read a great article on AccountingToday, there's a little LinkedIn share button. If you think people in your network will enjoy the read/information, by all means share it. Of course, find a reasonable balance and don't overdo it.
Start Blogging — Got something to say about hot-button topics in accounting? Then use LinkedIn's blogging features to share your own ideas. It's a great way to raise your profile and promote yourself as a "thought leader."
LinkedIn for CPAs Tip #7: Find & Apply for Jobs
LinkedIn is also fast becoming one of the best job boards on the Internet. Just use the "Jobs" tab and search for positions just as you would on any other job site.
The best part? Applying through LinkedIn is as easy as sharing your profile — plus you can see how many others on the site have also applied for a job.
And don't be afraid to InMail your connections and ask for help in your job search.
Do you have LinkedIn tips to share?