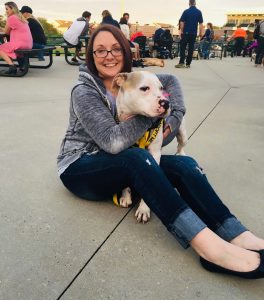 With her recent IMA honor society recognition, Ashley Canonico might have just received the ultimate validation for the radical career change she underwent a handful of years ago.
With a BA in Education and Psychology, Ashley's original plan was to become a teacher, but at that time, she found the educational system saturated. That's when she made an about-face and took a job unrelated to her career. First at a veterinary supply company, then with a defense contractor.
"I was never a numbers person," she says. "I hated math in high school. But in this job, I was learning so many different things in diverse areas."
Today, she oversees accounts payable and works in accounts receivables, but she also has her eye on auditing and forensic accounting. "Discovering these different areas has been eye-opening for me, and I've found I really love this kind of work."
Gaining Valuable Experience Through The IMA®
Since her major career shift, Ashley has ascended quickly. She's studying for her CMA exam now, attending IMA networking events, and generally doing all the right things to advance her career.
"I really like what the IMA offers," she says.
"They have a lot of webinars and training, and once we get over this pandemic, we can get back to those in-person networking events. It's also helpful to have the ability to pick people's brains if you have something you need to discuss or some research to do."
She pays specific attention to IMA's Young Professionals group, designed for people that are still in, or have just graduated from, college and are just venturing out into the job market. "I found this to be really interesting," she says. "It's so helpful to hear other people's stories, their career paths, and kinds of things that show us how we intersect with each other."
Preparing for the CMA Exam While Still in School
Ashley's finishing up her Accounting degree as we speak and, at the same time, preparing for the CMA exam. She set herself up for success by choosing to study with Wiley's CMA study prep materials.
"I was very excited when I saw that the program that came with the IMA scholarship was Wiley CMA because I'm familiar with the materials, and I really trust it," says Ashley. "I've used Wiley materials for years. A lot of my textbooks for accounting have come from Wiley. So I knew it would be a good program for me."
Thriving Through Challenges
Ashley now has a lot on her plate. In addition to holding a full-time job while finishing her accounting BA, Ashley is now embarking on perfecting her CMA exam study routine and lining up her classes for her MA in Accounting.
"I feel good about it, though," she says. "So far, I've maintained a 3.6 GPA in all my accounting classes, despite never actually stepping in a classroom for accounting. It's all been self-taught. I take pride in that because it's not easy to teach yourself. It's something I worked very hard toward. A lot of studying!"
Getting It Done One Way or Another
But Ashley has always thrived in a demanding environment and excelled when much has been asked of her. "There's no other option other than just getting it done," she says. "That's the environment I've always been able to do well in. That's just been me since I was a kid, you know? You can hold my feet to the fire and back me into a corner, and I'll get it done one way or another."

Ready to tackle the CMA exam like Ashley is? Get started now with a free 14-day trial to the Official CMA Review Course of IMA.