Selene McCoy is excited, and not just because she secured Wiley's first Accounting and Finance Student Scholarship. Well, she's definitely excited about that. But more than that, Selene McCoy has the feeling she's onto something. Something right. Something worthwhile.
In fact, even though she's still an undergrad, she appears hot on the trail of a rewarding career in finance.
"I'm super excited just for future job prospects," she admits. "I'm OK doing anything related to finance, and that includes accounting or public accounting. My school has definitely pushed for us to look at the Big Four."
While her sites may be set high, Selene's proven she has what it takes.
The CUNY Hunter College accounting major, an avowed "goody-two-shoes," is killing it in school and, frankly, is tickled by anything that requires numbers and math. It's that passion that has convinced her that she's on the right career path. "I love learning," she says.
"My mom started teaching me at the age of five with the Khan Academy lessons at home, so I've always seen math as something fun to do."
Selene, 21 and born and raised in the Bronx, is the youngest of three children in her family and the first to earn a Bachelor's degree. "My mom got her Associate's degree when she was 42. But I feel everyone is pulling for me."
When she first started college, she had no idea where her path would lead. "I had some friends in my social circle that were into all different disciplines, like philosophy and psychology." But it was her accounting friends that talked her into going in that direction. "I knew that anything with numbers made me happy, so I decided to follow them into accounting."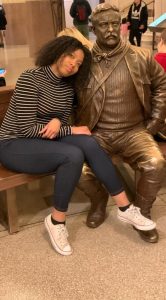 So far, Selene has zoomed through her studies and is in the thick of her major's coursework.
"Right now, I'm in the toughest class in our accounting curriculum," she says. "They call it a 'weed-out' class, where they see who's really cut out for this kind of thing. I'm enjoying it!"
When Selene first heard she'd won the Wiley scholarship, she was shocked and surprised. "I had never won anything like it," she says. "I had never even applied to anything like this." Through the encouragement of a professor who saw her potential, she gave it a shot. Hearing that she had actually won was like hearing a voice from the heavens. "I am in desperate need of accounting supplies," she says. "Studying at home without a desk has been uncomfortable, and my laptop just died," she says, hinting at where she's looking to invest her scholarship funds.
Once Selene attains her BA, she'll be heading into a Master's program.
"I can't tell you where I'll be 10 years for even five years from now," she says. "But I have one more year for my BA, and then I go on to get my Master's. At that point, I hope I'll be getting deep into a career search, where I have to decide what branch of accounting I'd like to focus on. For me, coming from a low-income background and being the first person in my family to attend college, I just want the kind of job that has stability, a job that's going to pay me a good income, so I can take care of myself without worrying."
Selene, we wish you the best of luck with your career journey!
Don't Miss Your Chance to Win a $1,000 Scholarship
A $1,000 scholarship will be awarded to a new student every month, so check out our Monthly Scholarship Schedule to see which months you should apply for!