Anyone who has taken the CPA exam will tell you the same thing: it's not easy. Each section includes exam questions that feel more difficult than anything that you studied in school.
While those factors alone are difficult enough to overcome, outside circumstances also play a huge part in how well you can prepare for the test.
Luckily, we've put together our top tips that will help you go into each exam as prepared as possible. 

1.Take a CPA practice test to see where you stand
These practice tests cater to each individual section so you can see what you need to improve on before you spend hours going over information that you might not need. Once you've completed a practice test, you can lay out a plan of attack and focus your study habits on the specific topics that you need to improve on.
Wiley has a great comprehensive CPA practice test that's free for you to use:
2.Make a CPA exam study plan and stick to it
Continuing from the last point, by laying out what exam topics you're going to study and when you'll begin each one, you'll be more mentally prepared to fully digest the topic that's grabbing your attention at that specific time. This cuts down on you going down rabbit holes and getting lost during your study sessions as you try to swallow too much information at once. 
3. Let your friends and family know you're taking the CPA exam
Reach out to family and friends to let them know that you'll be MIA for a while as you focus all your free time on studying. Not only will this prevent them from bothering you, but they might help you out by offering tips, dropping off snacks, or by doing other helpful things.
If nothing else, it will eliminate distractions and make you appreciate the little things in life even more.
4. Take care of yourself
It's easy to go for the quick munchies, skip the gym, or burn the midnight oil while studying. But, your brain, just like your body, needs proper nutrition, exercise, and rest in order to be as healthy as possible.
Prep your meals for the week instead of snagging fast food.
Keep a regular workout schedule, maybe even try to read your flashcards while you're on an exercise bike or elliptical.
Set a cutoff time when you'll stop studying and go to bed.
You don't want to sink your chances of passing the test because your body is pushed to complete exhaustion and doesn't have the energy to focus.
5. Find a CPA mentor
Ask people who've already taken the test what they did to prepare for the exam. See if they have any tips or perhaps some materials that aren't outdated and can still be used.
Considering how hard the CPA exam is, there are a lot of people out there who would gladly help someone who's about to embark on this difficult journey just like they did.
Read: CPA Exam Story: Passing the Exam as a Busy, Working Mom
6. Begin studying for the CPA exam as soon as possible
DON'T push this off until after you finish something else. The difficulty of each section can't be stressed enough and will need your immediate attention.
The CPA exam sections change as different laws and regulations do, so you'll need to comprehensively understand the material in case your practice exam is a little outdated. In other words, get started NOW.
7. Join a CPA study group
If you like group work and can find other serious CPA candidates, form or join a study group that meets once a week or so. Not only can your peers help you work through difficult areas but explaining concepts to others can help you better understand those concepts yourself. Plus, they may have some great CPA exam study tips of their own to share.
The Wiley CPA Study Group on Facebook is a great place to get peer advice, read tips from Wiley instructors, and gain early insight into exam changes. The only criteria for joining is that you're using a Wiley CPA product.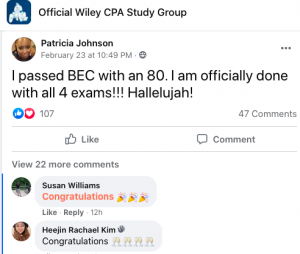 8. Manage your time wisely
Block out chunks in your schedule to devote solely to studying for the exam. Plus, managing your time wisely will also help with planning other aspects of your life. 
To help you develop and perfect your time management strategy, Pam Smith, Wiley CPA Instructor and KPMG Endowed Professor of Accountancy at Northern Illinois University, has prepared a bonus 10-minute video outlining the best tips and tricks for making every second count:
Register now to access Pam Smith's best time management tips.
Here are just some of the things you'll learn from this bonus video:
Advice to get organized before the exam and how to create a plan of attack
How much time it takes to study for all four parts of the CPA Exam to ensure passing in 18 months
How much time you should allocate for each multiple-choice question and task-based simulation during the exam
Why your study time should be a practice in
When you should and should not take a break during the exam
9. Study wherever works best for you
Your home might be the worst place for you to study, or it could be the best. The same can be said about your local coffee shop, library, or anywhere else. The point is, you need to find a location that works for you and use it to your advantage.
You'll want to make sure that when you start to study, absolutely NOTHING will distract you. The fewer mental obstructions, the better.
10. Use flashcards
Flashcards aren't just great because they help your brain create a direct correlation between the question and answer. They're also good for you because as you make them, it helps you study without knowing you're studying. 
Taking things in through a method of tiny increments will also make it easier for your brain to remember. Our Wiley CPA courses feature more than 4,000 digital flashcards for just this reason. You can also make your own. All you need are some 3 x 5 index cards.
11. Take breaks
Studies show you absorb more information at the beginning and end of each study session. That's why our bite-sized lessons are structured as they are.
Study in 30-45 minute increments, with 10-15 minute breaks in-between. The longer the time spent going over and over a specific topic, the more likely you are to grow fatigued and forget the information.
12. And last but not least, be sure to choose the right CPA materials for you
There are so many different companies that offer CPA study materials, but that doesn't mean that the same resources work for everyone.
Study materials, like studying methods, aren't a one-size-fits-all approach. Each set of materials has a different strategy as to how they prepare you for the exam, so you'll need to find the best kind that meshes best with you. 
Compare Wiley's CPA Review Course options today and ensure you have everything you need to pass the CPA exam.