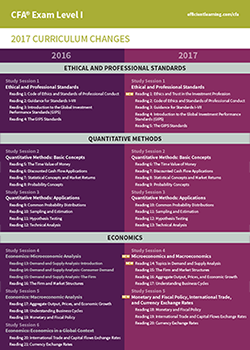 The CFA exam results are out. If you received a passing score, congratulations – this is an enormous achievement and one that you should be very proud of. If you did not receive the score you were hoping for, don't give up! The CFA is a very difficult exam, but with some more practice, you can get that passing mark.
Understanding the curriculum is critical to success. If you are re-taking the exam, you'll want to optimize your study time and ensure you pay particular attention to new or amended study sessions. To help, Wiley has put together a handy cheat sheet of the 2017 CFA curriculum changes for Level I and II.
Click here to download the Level I and II curriculum changes.
Good luck!