Following the substantive changes to the structure of the CPA Exam on April 1, 2017, the AICPA has not made additional changes to the blueprints or structure. However, starting July 1, 2017, there will be noteworthy changes to the pronouncements that will impact the exam. The Wiley CPAexcel online course, test bank, and mobile app have been updated in accordance with these content changes.
Quick Overview of the Changes
AUD | Auditing & Attestation
Pronouncement Changes:
I. SSARS 22: Compilation of Pro Forma Financial Information (AR-C 120)
II. SSARS 23: Omnibus Statement on Standards for Accounting and Review Services -2016
III. SSAE No. 18: Attestation Standards: Clarification and Recodification
BEC | Business Environment & Concepts
No changes.
FAR | Financial Accounting & Reporting
No changes.
REG | Regulation
Pronouncement Changes: 
I. Highway Trust Fund: Additional information on Returns related to Mortgage Interest
II. 2010 Health Care Act, as amended by the 2010 Health Care Reconciliation Act
III. PATH Act: Extender Provisions Expiring
IV. Internal Revenue Code Tax Updates
All Wiley CPAexcel course content has been updated to reflect these content changes. In addition, the course has added more difficult task-based simulations.
Where To Start? Edit Your Exam Plan*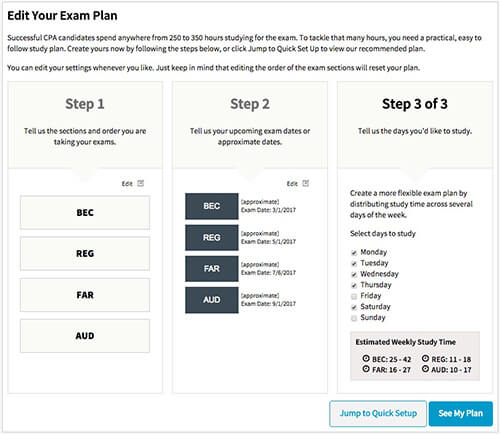 Updating your Wiley CPAexcel Exam Plan is required in order to see the new lessons in the online course. Please complete the steps below.
* If you are enrolled in a custom university course that uses Wiley CPAexcel, please check with your instructor before editing your exam plan.
From the course dashboard, scroll down to "Exam Plan" and select "Edit My Exam Plan".
Select "See My Plan" to review your exam plan.
Verify your "Start Date" and "Test Date" are accurate for each exam section or select "Edit My Plan" to make changes as needed.
Select "Go to FAR" (for example) and confirm your plan by selecting "Yes, I'm Sure". This will save your plan and load the new lessons in your online course.
Start studying!
We're with You Until You Pass
As your Partner Until You Pass, your Wiley CPAexcel course has no expiration date—use it until one year after you pass the exam. Course repeats, online content updates, and software upgrades are free, including the new July 2017 online course.
For a refresher on how to use your Wiley CPAexcel courseware, visit our Product Tour & Tutorials resource page. At any time, you are welcome to contact us with questions.