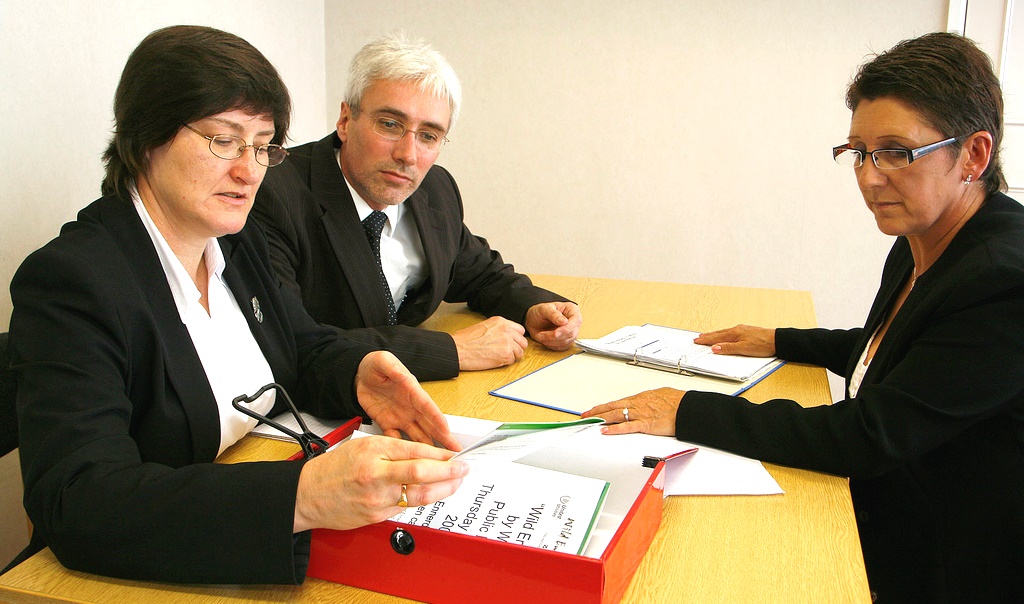 First, you spruce up your resume. Then you land the job interview.
Now you have to nail it. Here's some helpful advice on how to prepare as well as the job interview questions you're most likely to hear.
5 Must-Follow Job Interview Rules
… from the amazing know-it-alls at Harvard Business Review.
1. Dress The Part
This doesn't mean "always wear a suit." For an interview at a Big 4 firm, yes, absolutely wear a suit. But for smaller organizations, investigate the company culture closely. You want to overdress a little, but you don't want to be wearing a suit in an office full of American Apparel.
2. Sell Yourself
Forget that nonsense about "being yourself." A job interview is a performance. Figure out what the hiring manager wants and tell a story about how you uniquely fit those needs. You should, of course, answer job interview questions authentically and honestly.
3. Do Your Research Beforehand
A common mistake is to believe "you are interviewing them." Those reverse job interview questions about why you should work for them make you look ill-prepared. Act like the job is the only job you want. If it were you, would you pick the aloof candidate who needs to be convinced to work for you?
4. Your Greatest Weakness Is Not a Strength
Among the most common job interview questions (see below) is "What's your greatest weakness?" Don't say you "care too much" or are "too much of a perfectionist." Bag the cliché answers. Admit a genuine weakness and detail how you worked to overcome it. You need to show how you adapt and learn – that's what these job interview questions are really asking
5. Don't Talk Money Until They're Hooked
Only talk pay and benefits when the time is right, preferably after receiving an offer. Of course, the hiring manager may ask your salary requirements. First, offer a general answer such as, "My requirements are negotiable." If pushed, a gem of an answer is: "Well, I'm being interviewed for jobs paying …" (Thanks, HBR!).
6. Me, Fired? Nooooo.
Job-hopping and resume gaps are more common today. Even so, hiring managers don't want another company's rejects. When asked about changing jobs, avoid saying you were fired or laid off. Make your answer/s as short, uncomplicated and positive. And don't criticize your former employer (nobody wants a bitter reject).
15 Common Job Interview Questions
Outside of crazy places that ask you solve some complicated brain teaser, most companies adhere to a similar script with job interview questions. Here are 15 job interview questions you'll be asked in one way or another …
Tell me about yourself.
Why do you want to work here? Why are we your first choice?
Describe a situation where you felt challenged and how you overcame it.
What's your greatest accomplishment?
Tell me about how you successfully dealt with a difficult person.
Provide an example of a time you failed and how you bounced back.
Give me examples of how you work under a deadline.
Tell me about a time when you had to persuade your supervisor/team to go along with an idea of yours.
Describe situations where you've had to use technical writing skills.
How do you manage large and complex projects?
What are your strengths?
What are your weaknesses? (see rule #4)
Why have you had XYZ jobs over the years?
Where do you see yourself in five years?
Do you have any questions? (see rule #3)
Don't script your answers but do come ready with examples, data, and anecdotes to use.
Interviewing with a Big 4 firm? Here's a more-exact outline of what to expect.
How to Fight Off Job Interview Nerves
It's normal to be nervous. Follow this practical advice for keeping your nerves in check.
Plan Your Route
Your prep should include mapping out where the office is and how to get there in heavy traffic or bad weather. If possible, when initially confirming the interview, ask  what the hiring manager knows to be the best route.
Get Plenty of Sleep
A good night's sleep is a must, especially if you're facing an hours-long interview. Get as close to a full eight hours as possible. This should be obvious, but: Drinking excessively or taking "PM" sleep aids is a recipe for disaster.
Eat a Good Breakfast
People are cranky when they're hungry, so be sure to fuel up with a healthy breakfast. Avoid the greasy spoon-style breakfast, as you don't want to … um, cause a stink.
Deep Breaths
Imagine your inner yoga teacher telling you to "Innhaaaale. Exhaaaaale." Breathing deeply slows your heart rate and quiets the nervous system.
Pause Before You Answer
Take a breath (queue inner yogi), focus on your message, and speak slowly and clearly. A great stalling tactic is to say "that's a great question" prior to answering complicated job interview questions.
Alright, you got this? Now, go ace that interview!