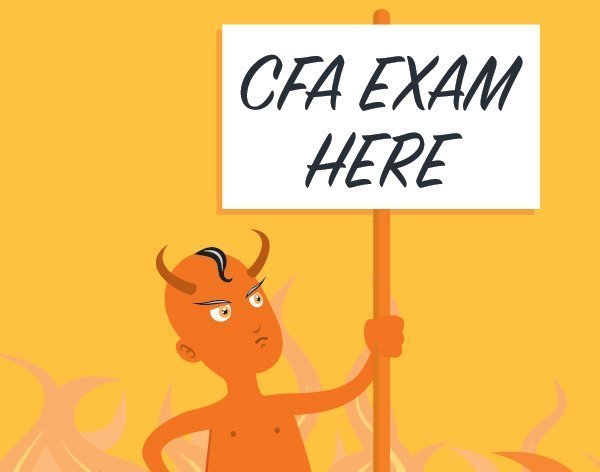 How does it feel to take the CFA Program exam? Pretty bad. Test takers cry. They throw up. They roll into the exam on rollerblades. Wait, that last one sounds pretty cool.
Regardless, these tweets pretty much nail the 6 levels of CFA Program hell in all their visceral glory. Read on, if you dare.
1. Pre-Exam Mood Swings:
Panic… 300+ hours study finally takes its toll, especially if you try to cram it into 15 days (that's 20 hours of studying a day!). Why did you sign up? What were you thinking?
Excitement… Hey, nothing bad lasts forever. Cabbage Patch Kids, CFA Program exam study, One Direction… This is going to end soon!
2. Last Minute SNAFUs:  Passport? Check. Route to the testing center? Done. Pencils? …..Oh crap.
3. Exam Day Freakiness: You've spent months prepping for this. You're in the zone. Nothing's going to throw your game. And then you see all shades of weirdness ….
5. Crippling Self-Doubt:  You're done!! It's over! You rocked! No, you bombed it! No, you rocked it! Ugh, who knows…
Either way, it's time to dig out the good stuff and party…
Or just wolf down a Guinness and a broken apple pie.
Then drink some more.
Until…
6. The Existential Crash:  The CFA Program exam is over. You have your life back… But what's it all about? I mean, really, what's it all for?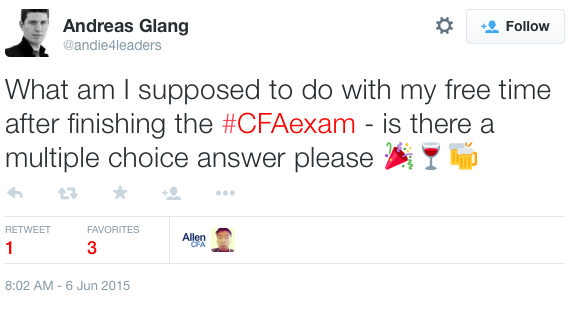 It's like there's this big CFA Program-shaped hole in your whole existence…
But it's over and you bask in the relief. Until you remember one thing…Results day.
Have a CFA Program exam story to share? Tweet it to us  @wiley_finance or via Facebook .
Thinking about testing your endurance with the CFA Program exam? Download our free eBook,  How to Pass the CFA Program Exam – The Ultimate Cheat Sheet .
You may also like: